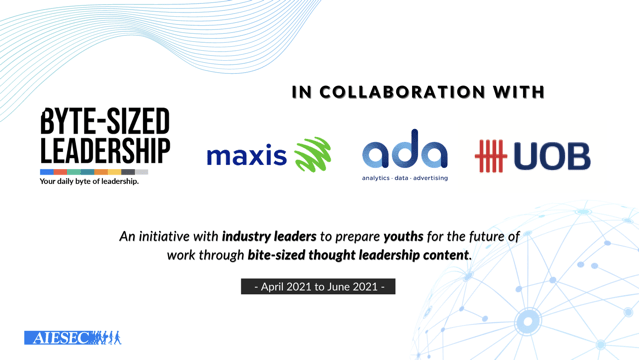 In partnership with Maxis, ADA and UOB Malaysia, our team at AIESEC in Malaysia has launched a leadership programme tailored to youths interested to network with industry thought leaders to prepare for their future careers.
Youth Unemployment
With the widening gap between the industry and youth, youth unemployment is increasingly recognized as a youths issue in Malaysia. According to the Department of Statistics Malaysia, the unemployment rate for youths aged 15-30 years old has risen to 8.7% in December 2020, higher than 4.8% of the national unemployment rate.
In the World Bank and TalentCorp Survey, a few findings are found to be related to the large gap between youths and industry such as:
90% of companies believe more practical training should be provided for graduates.
80% of companies address that the university curriculum does not cater to the current realities.
Less than 10% of companies had experience in developing curriculum or programmes with universities.
Conversation Between Industry and Youths is Crucial for the Future Workforce
Travis Lee, Country Manager of AIESEC in Malaysia emphasised that Malaysian youths encounter unemployment arising from skills mismatch and inadequate exposure in leadership roles although both youths and corporates have adapted to the new norm in the workplace – remote working and online recruitment.
"Malaysian youths take up more than 40% of the country's population – the nation's most significant assets. Opportunity and exposure have become essential in bringing the youths and industries into a common ground of employment to understand both pains and gains. The solution has to come from both sides with the company's investment in talent acquisition and development and youths' proactiveness."
"We share the same vision with Maxis, ADA and UOB Malaysia to be the solution of youth unemployment in Malaysia by connecting youths and the industry thought leaders . This programme will prepare youths to explore a purposeful career experience with the partners and achieve the outcome – continuing the youth leadership impact in the workplace," said Travis Lee.
AIESEC in Malaysia launches The Inaugural Byte-sized Leadership Programme
Venturing into the workforce without a prior understanding of industry trends and culture can be challenging. At AIESEC in Malaysia, we envision engaging youths in light and relevant content about leadership, at the same time connecting them with thought leaders from different sectors in the nation through the partnership with Maxis, ADA and UOB Malaysia.
The Byte-sized leadership programme aims to collaborate with 12 industry partners to feature thought leadership related to the 4 leadership qualities in AIESEC: Empowering Others, Self-Aware, Solution-Oriented and World Citizen. These qualities are crucial to prepare youths to take a stand on what they care about and become leaders that make a difference through their everyday actions. Through the programme's surveys, videos, social challenges and networking calls, youths will be onboarded to be career-ready.
What The Programme Offers
Byte-sized Leadership is an online programme that offers
A 3-minute video that features industry thought leaders.
Social challenges for youths to share their learnings with industries after watching the videos.
30- 60 minutes of virtual networking sessions with industry leaders.
About AIESEC in Malaysia
AIESEC in Malaysia is a non-political, independent, not-for-profit youth organization that is run by youths to provide youth leadership development opportunities through cross-cultural exchanges and practical experiences.
To know more about Byte-sized Leadership Programme, please contact us at [email protected]