Food Heroes campaign is an element in Clean Our Plate project by AIESEC in Malaysia that focuses on eating habits & food choices. It is an educational initiative developed as part of UNICEF's World's Largest Lesson for kids and young adults. They will learn about the important relationship between healthy food for both our bodies and our environment through interactive workshops.
Since 2018, over 40,000 kids have been reached by Electrolux Food Foundation, AIESEC, and Worldchefs across 31 countries. Later in 2021, AIESEC in Malaysia decided to launch this initiative to build up relevance and exposure of more Malaysians towards food waste knowledge in the country.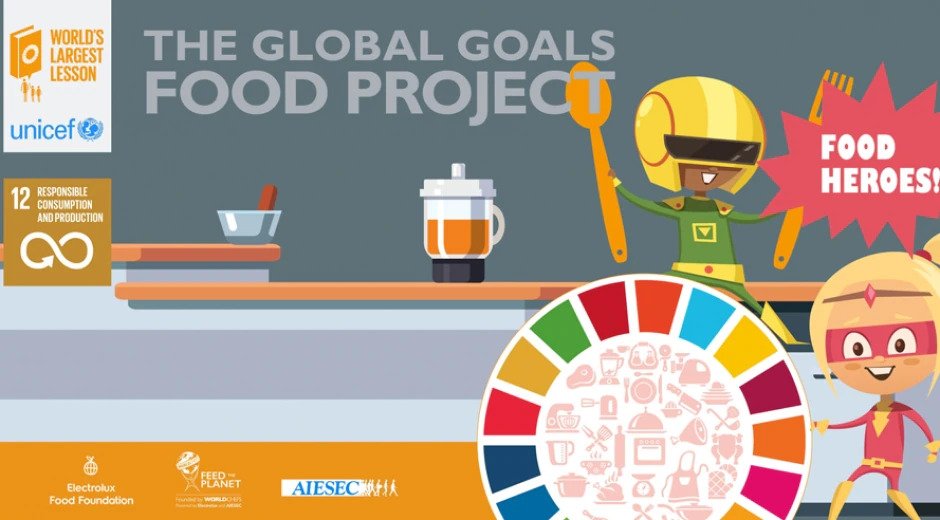 In Short
The objective: To contribute SDG Target 12.3 – reduce the world's food waste by half through engaging and inspiring Malaysian kids (8-12 years old) & young adults (13-17 years old) to make sustainable eating their preferred choice.
The approach: Delivering food waste knowledge to the Malaysian students in upcoming November through online lessons.
The result: a total of 425 youths impacted through 19 virtual lessons with AIESEC in Malaysia, Electrolux Food Foundation, and World Association of Chefs Society in November 2021.
One third of the food produced in this world goes to waste, which is 1.3 billion tonnes per year. (United Nation Food and Agriculture Organization (FAO), 2011) Meanwhile, 800 million people in the world go to bed hungry. (Food Aid Foundation, 2020)
Food waste leads to climate change. It is estimated that 8-10% of global greenhouse gas emissions originate from food waste. (UNEP, 2021) If food waste were a country, it would be the third largest greenhouse emitter after US and China. (FAO, 2013)
The 2030 Agenda for Sustainable Development reflects the great concern of the issue as target 12.3 of the Sustainable Development Goals (SDGs) calls for halving per capita global food waste at retail and consumer levels by 2030, as well as reducing food losses along the production and supply chains. 
In collaboration with the Electrolux Food Foundation and Worldchefs, AIESEC in Malaysia is committed to educating and spreading awareness about food waste. By nurturing Malaysia's mindset since young, we can prevent more food waste in the country for years and decades to come.
Reduce food waste for a more sustainable future
While kids talk about food like any other Malaysians, they should also understand that our planet needs to be better cared for. Combining both aspects together to explain how better eating is healthy for both our bodies and our environment is the essence of what our Food Heroes program is all about.
Earlier in 2018, Electrolux Food Foundation, AIESEC and Worldchefs developed a joint lesson plan to inspire children to challenge and change their own food habits. The education program is based on a newly launched education toolkit that contributes to the UN Sustainable Development Goals on responsible consumption and production.
In November 2021, AIESEC in Malaysia then launched this initiative to build up relevance and exposure of Malaysians towards food waste knowledge in Malaysia. The aim is to inspire the next generation to eat more sustainably and teach them about the important relationship between food and the welfare of our planet. 
Develop children to Food Heroes
By the end of this campaign, we impacted 425 students to be aware of sustainable food habits & their food consumption & choices. Food Heroes gets up close with some facts, figures and fun in an interactive workshop. A series of Instagram challenges was also designed specially to captivate children's minds using activities, videos, workbook materials. Once they completed the program, a Food Hero certificate will be rewarded.
Special thanks to a fabulous team of facilitators in schools, offices and kitchens including Electrolux employees, chefs and AIESEC volunteers. We anticipate greater impacts to educate over 30,000 children around the world through workshops to be certified Food Heroes. 
Virtual lessons conducted
Oranising committees
participated
Food Heroes Second Semester 2021